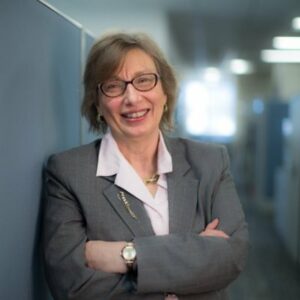 A nationally-recognized champion of military families, Joyce serves as a subject matter expert on military health care, education, military spouse employment, family readiness, and on ways military families can influence policies affecting their lives. Joyce retired as the Executive Director of the National Military Family Association in August 2019, where she led a dedicated team working to ensure the Association's programs and initiatives promote the strength and resilience of the families of the seven uniformed services. She became Executive Director in 2007 after serving in various staff positions in the Association's Government Relations Department since 1995.
Publications include: a chapter on post 9-11 military family advocacy in A Battle Plan for Supporting Military Families: Lessons for the Leaders of Tomorrow, published in 2018 by Springer Press; and a chapter on transforming support to military families and communities in Filling the Ranks: Transforming the U.S. Military Personnel System, published in 2004 by the M.I.T. Press. She currently serves on the DoD Millennium Cohort Study Strategic Board.
Honors include the Department of the Air Force Distinguished Public Service Award and the American Logistics Association's Lifetime Achievement Award. The spouse of an Army retiree, Joyce earned a B.A. in History from Gettysburg College, and a M.A. in History from the University of Virginia. She is a former teacher and served on the Fort Knox Community Schools Board of Education from 1993 to 1995.