Military families deserve a seat at every table that deliberates the policies that affect their lives, whether common like housing or world-changing like declaring war. Now is the time to push for inclusion.
We all know that military spouses and family members gain a wealth of policy, regulation, and program knowledge just by going about their daily lives around the military community. That's knowledge that could generate new insights, better-informed decisions, more targeted resources, and buy-in from the full military community on Department of Defense (DoD) policies. If only someone would ask, right?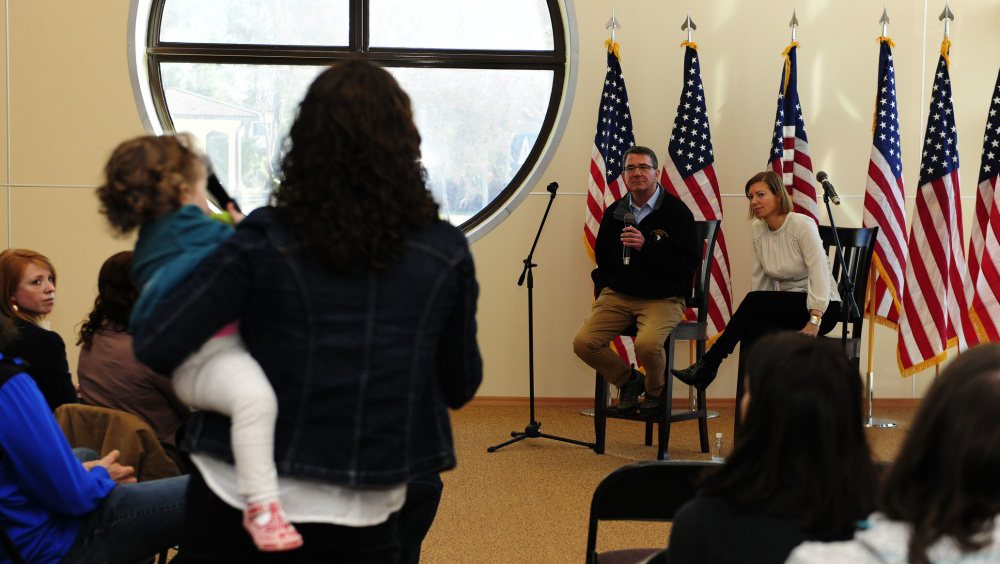 In fact, the DoD does ask a few hundred civilians to give them advice on a range of policy topics by serving on one of 42 DoD advisory boards. These committees cover topics ranging from women in the military, diversity and inclusion, healthcare, DoD civilian wages, special education, and so much more. But in all the committees, only one specifically holds a seat for military family members–the Military Family Readiness Council (MFRC).
Success as a military family (and ultimately, retention of the service member), is determined by so much more than what a single council can cover in two meetings a year, with only four (!) military spouses to represent the 2.6 million dependents. After almost 20 years of war-time strain and sacrifices, we have earned representation on every committee that deliberates the policies affecting our daily lives.
The new Secretary of Defense has ordered a thorough review of every advisory board and evaluation of their membership plan. We are urging that when the committees return, they include the expertise offered by military family members. In fact, SFI volunteer Amanda Grill published an article in the Military Times to tell them exactly what they will forfeit without families at the table:
So why — after investing tens of thousands of dollars in recruiting and training each individual troop — do the armed forces create unnecessary hardships that make continued service untenable? If as a military spouse, you cannot transfer your expensive, time-intensive professional license, use your hard-earned degree, or even just find a job, how likely are you to support reenlistment? If your children's education has suffered from mid-school-year moves and conflicting learning objectives, are you going to agree to four more years of ineffective schooling? If your household income fluctuates wildly every other year by call-ups for the Reserves, will you keep accepting the financial hits? That answer is "no," according to the Army's 2018 study on readiness and retention. When the spouse supports staying, 93% of Army families stay "Army Strong," but when the spouse has decided that "enough is enough," only 44% of soldiers remain in the service. Defense policies that better meet the needs of the families also protect their own significant investments.

Whether by accident or design, the modern, all-volunteer force changed the nominal dependents into critical stakeholders… If you included a few military spouses on the Defense Health Board, you would likely learn that continuity of care is one of the greatest challenges to adequate and preventative health care. A current partner serving on the Defense Advisory Committee on Women in the Service could provide insight into the unique challenges of the 20 percent of military women in dual-military marriages. A military family voice on the Committee for the Prevention of Sexual Misconduct could shed light on the social spaces where assaults can occur. Families in the military community have experiences, perspectives, and knowledge that few service members, veterans, or external citizens can provide. Trust in their lived experience and their commitment to the success of the whole community.

"Military families on advisory boards would be a force multiplier for DoD policies." By Amanda Grill, Military Times. 25 February 2021
If you've ever said some version of "if only the military would ask how to better meet the needs of our family" to your service member, then you know how important this campaign is for everyone in our community.
Learn More + Take Action
Join the movement for more representative policies and sign the SFI petition to Secretary Austin.
It's the first step in making sure the Pentagon hears your voice on the issues that you care about.
---