There's an exciting election taking place this year, and you're all ready to vote! You've updated your registration, you've studied the candidates, you've made a plan to get to the polls.
But what about your family? Your friends? Are they ready to vote?
It's easy to think about "Getting Out The Vote" as talking to strangers, but we often overlook people in our own personal networks. Which sucks, because studies show that friend-to-friend outreach is twice as effective as getting folks we don't know to the polls. Twice! Double! 200%!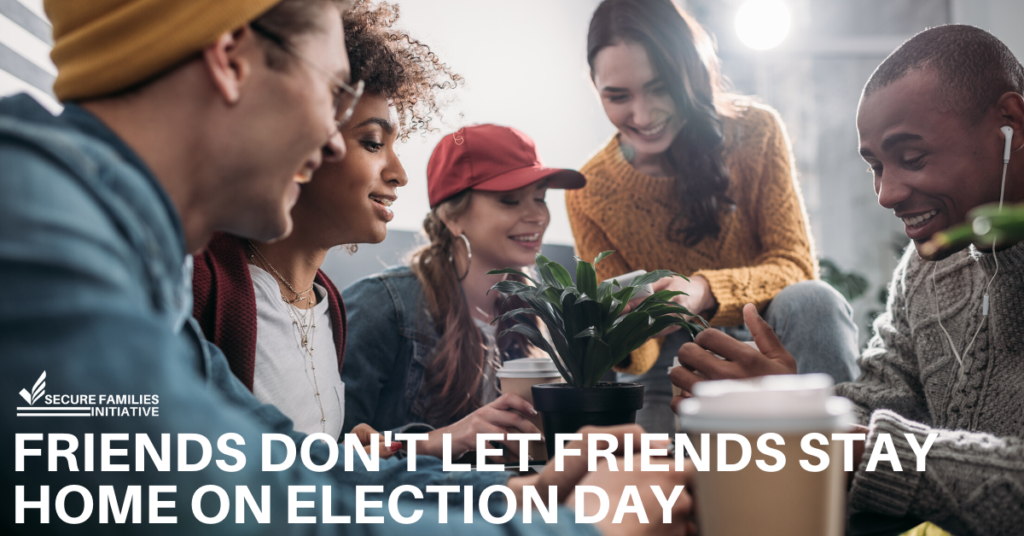 So before you go sign up for GOTV phone banking, think — who in your life could use a nudge?
Your best friend back home who you call every week?
Your next-door neighbor who walks your kids to school when you're sick?
Your hair stylist?! You're going to sit in that barber chair for a while, might as well make the most of it…
Think about the friends and family who would be on your holiday card list (you know, if you had time for that kind of thing), and don't forget to ask them if they're registered and ready to vote. You might be the only one in their life who bothers to ask! Chances are they'll appreciate the reminder, or at very least be curious enough to ask why you vote.
Want your friends and family to vote? Here are some tips when talking to them:
Practice! There's no loss in rehearsing what you're going to say, to another supporter or to yourself in the mirror.
Pick the best contact method for them. In-person conversations are always best, but if that's not feasible: are they a caller, texter, or Facebook messenger-er? Meet them where they're at.
Don't overthink it. This doesn't have to be a DTR-length saga! Just a 3-5 minute conversation where you briefly catch up and get down to business.
Ask what their plan for voting is. Getting folks to visualize the process reinforces the idea and helps them anticipate what might go wrong.
Keep track. It sounds weird, but make a list of everyone you've contacted (just like normal phone banking) to make sure you follow up when appropriate.
Does this feel like a potentially awkward conversation to have? Sure. But I promise you it's way less painful than it sounds. And if you'd like some help strategizing how to bring it up, join one of our training sessions on Relational Voter Outreach. We've got some tips and tricks to share, plus it's a great way for us to all brainstorm new ideas together.
Friends don't let friends not vote. Be a friend and remind yours to vote!