Join us in welcoming our new Afghan neighbors to the United States!
For Secure Families Initiative's 2nd annual Day of Service, we are partnering with REACT DC, a milspouse-led resettlement organization that supports Afghan refugees in the DC-Virginia-Maryland area.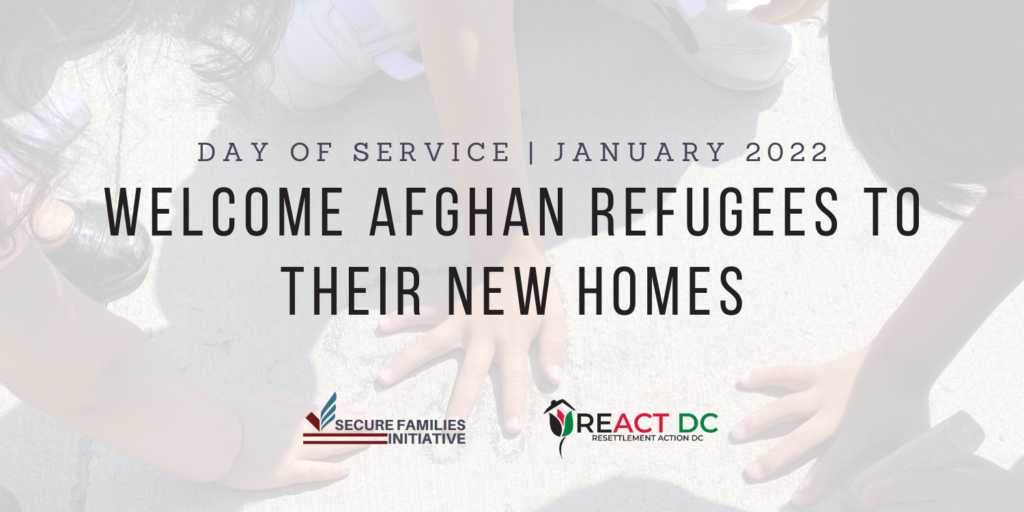 About REACT DC
REACT DC began as a motivated group of professional military spouses and veterans with backgrounds in law, intelligence operations, military service, education, and non-profit work. With a strong desire to assist in the Afghan refugee crises, and using our collective knowledge and specialized skills, REACT DC was founded in September 2021.
The organization provides "compassionate, comprehensive, and cost-effective resettlement assistance for recently arrived refugees." By working directly with families on the ground, REACT has an immediate and invaluable impact on the lives of Afghan refugees in the DC metro area.
How to Help
We are ready to lend a hand to support REACT's work and hope you'll join us! Whether you are local or far away, we have a variety of ways you can help.
Volunteer (local to Alexandria, Virginia): REACT has three different hands-on needs. 

Winter coat drive: Volunteers will be needed for setting up the coat drive event (outdoors due to COVID), managing the coats during the event, and taking down the event at the end.
Transporting refugee neighbors: Maybe they need to be driven to an appointment, or maybe they need to learn how the DC metro works — either way, this option requires the most person-to-person contact.
Transporting household goods: This option has minimal person-to-person contact — all you have to do is help transport household items from the storage unit to homes. 

Donate (local or remote): There are two ways to donate. You can use this link to donate money directly​ — these funds will be used to cover costs associated with resettlement support (metro cards, gas, insurance, that kind of stuff).​ Or, you can also buy household objects from REACT DC's wishlists — we will send you that information after you sign up through this form.
Write Cards (local or remote): Hand-written cards are a great way to extend a welcoming hand. If you select this option, we'll provide you with templates to make card-writing simple.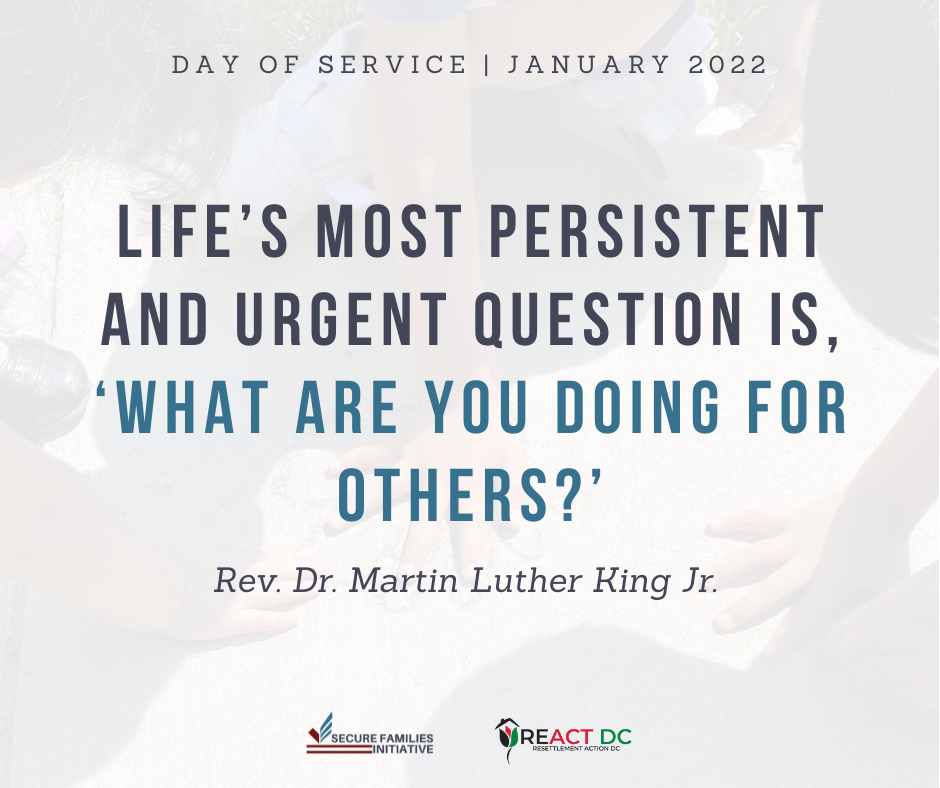 Sign Up to Join Us
Fill out the form below to let us know how (and when) you're able to help. We'll send a follow up email with more details based on the activities you select.