My name is Brandi Jones, and I'm the Organizing Director at Secure Families Initiative. I'm also the spouse of an active duty Marine. I want to share the story of my grandfather, Corporal Fred B. McGee, Sr..
He was a comic book superhero, a highly-decorated Korean War combat veteran, and an amazing person. Born on Memorial Day, he was always proud of serving his country, loved his family, and never met a stranger. All my life my Pap was and will forever be my hero.
A Revolutionary War Vet and a Patented Inventor
Let me start by telling you about two of his ancestors. My grandfather's great grandfather Henry Dorton was a Black Revolutionary War veteran born enslaved in 1748 near Bladensburg, Maryland. After escaping slavery, Dorton was drafted twice in the Redstone Settlement in Pennsylvania and once in Bladensburg, Maryland.
Dorton was one of very few Black Revolutionary War veterans to receive a pension. According to the book "The Mystery of Henry Dorton, 1748-1836: a story of the American Revolution" by Joy Berkley, in November 1832 Dorton personally appeared at the courthouse to request his pension. He won his case! I'm so proud of my great grandfather's service and perseverance.
Henry Dorton's granddaughter Pierre went on to marry Spanish McGee. The couple had my grandfather and raised him in a small town in Ohio. As a child my grandfather and his siblings enjoyed sledding down a large hill next to their home. The landscape was fun for sledding, but the slope made it extremely hard for the McGee family to drive when there was snow.
So Spanish McGee went to work creating a way to wrap the tires of his car with chains to make it easier to drive. Through Spanish could hardly read or write — he had escaped indentured servitude in Alabama during the Great Migration — he developed and patented the design for the tire chain on July 29th, 1924.
This is the illustrative family legacy that my grandfather — Corporal Fred B. McGee Sr. — was born into. Here's the rest of his story…
Korean War Service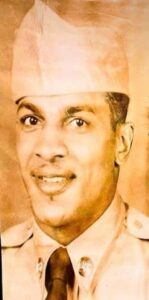 Corporal Fred B. McGee, Sr. was a Distinguished Member of the 17th Infantryman's Unit and served in the first 1st desegregated Army unit during the Korean War. McGee trained at Fort Hood in Kentucky, and before the age of 22 was a soldier in the Korean War.
The weather in Korea was freezing; food and other supplies weren't easy to come by. The soldiers were always on alert, unsure of what would happen from day to day. On June 16, 1952 Corporal McGee awoke to the sounds of his platoon coming under fire on Hill 528 in Tang-Wan-Ni, Korea. A gunner on a light machine gun, McGee found his position exposed and, though taking heavy fire, was still able to deliver supporting fire.
When his squad leader was killed, and the second in command unable to react, McGee — though wounded himself — took command and fired on enemy positions. When his machine gunner died, McGee took command again. Despite wounds in the face and leg, and receiving the order to withdraw, Corporal McGee voluntarily stayed behind to help evacuate the wounded and dead, carrying his fellow wounded soldiers on his back through mortar fire.
For his valor, McGee was awarded the Silver Star, two Purple Hearts, the Combat Infantry's Badge with Oak Leaf, Korean Service Medal with Bronze Star, the United Nations Service Medal, and the Peace Medal from the people of Korea. McGee was inducted to the Purple Heart Hall of Fame, as well as the Ohio Military Hall of Fame.
Corporal McGee's story of bravery was featured in a "Heroic Comics" book during the 1950's. Racial tensions were high at the time of publishing, and though McGee was a Black man, the comic book depicted him as white. Another discrepancy occurred when McGee didn't receive the Medal of Honor promised by his commanding officer.
Why I Share His Story
After coming home from the war, my grandfather returned to work at Wheeling-Pittsburgh Steel where he went on to retire after 43 years. He met my beautiful grandmother, Cornell McGee, and they celebrated 64 years of marriage before both passed away in 2020.
I'm grateful for the time I was able to spend with my Pappy as a small child. He always had a smile and loved his family very much. His sons served with honor in several wars, and one of them — James H. McGee — went on to become the first Black Mayor of Dayton, Ohio, and still has the longest mayoral tenure to date!
Throughout his life, my grandfather continued to help others in a variety of ways. Always humble, it wasn't until later in life that McGee even shared his impressive military story with others. He finally told his story as a way to teach others about the value of service, and the history of Black servicemembers.
It is my honor to keep his memory alive.