On Wednesday, September 20th Secure Families Initiative hosted a press conference with Congresswoman Barbara Lee (D-CA-12) and supported by Congressman Chip Roy (R-TX-21) on the urgent need to bring the 2002 Iraq War Authorization Repeal to the House floor for a vote.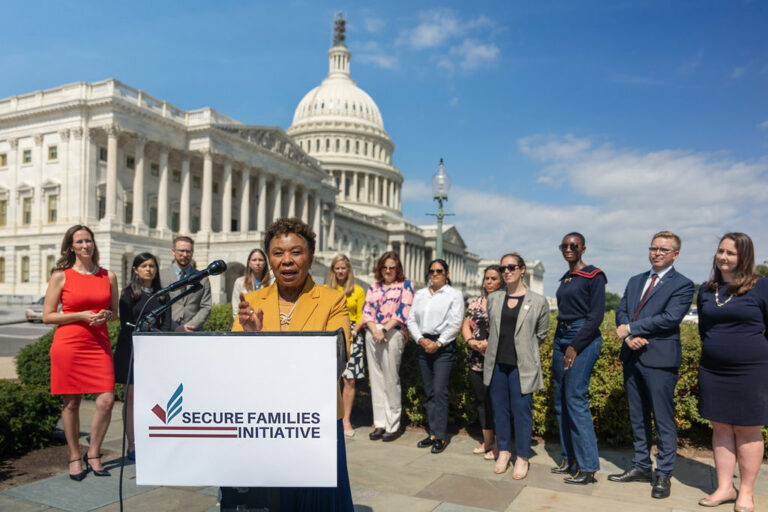 Watch the Press Conference
Why We Support Iraq War Authorization Repeal
Representative Lee, who has been a champion on this issue for two decades, spoke about the urgency to pass this repeal to honor veterans and return congressional war powers to Congress. In fact, we hosted Congresswoman Lee for a Facebook Live on this topic in 2021! 
"Despite us not being in the same party, Representative Roy's partnership is a testament to just how important this issue is –  regardless of party. We are  here today to call on Speaker McCarthy to hold a vote to finally end our forever wars and repeal the outdated and overly broad 2002 AUMF that congress passed nearly 20 years ago," Representative Lee said.
SFI Executive Director Sarah Streyder shared why ending the Iraq War authorization is important to military families. "This Authorization to Use Military Forceis no longer needed for ongoing operations. But while the 2002 AUMF may be unnecessary, it is not harmless. Leaving an outdated authorization on the books puts our loved ones currently serving in uniform at ongoing risk of harm. Because this law leaves open the possibility that a President from either party could throw our military into new hostilities without consulting Congress." Streyder said. "It removes the constitutional checks and balances that military families like mine rely on for confidence and security."
Unfortunately, Representative Roy was unable to leave a Congressional Hearing, but he provided a statement to share.
The Founders intentionally gave Congress the responsibility of both declaring and ending wars because decisions as important as sending our troops into harm's way warrant careful deliberation and consensus.

The 1991 and 2002 AUMFs are no longer necessary, serve no operational purpose and run the risk of potential misuse.

Passing S.316 to repeal these outdated AUMFs is the first step in fulfilling our Constitutional duty, honoring our servicemembers and their families, and giving our men and women in uniform a clear mission.
Earlier in the day on the 20th, a bipartisan group of lawmakers including Representatives Lee and Roy, sent a letter to Speaker McCarthy urging him schedule an AUMF repeal vote this month. It states, in part:
The President has made clear to Congress that the 2002, 1991, and 1957 AUMFs do not provide authority for any current military operations. The most recent of these AUMFs was adopted more than two decades ago. Only forty-four current Members of the House were here to vote on the 2002 AUMF. Each day that these outdated AUMFs remain on the books undermines the framers' intent for Congress to determine when and how America goes to war, and further alienates Americans from their right to inform Congress' decisions on these matters.
Take Action on AUMF Repeal