In honor of Black History Month, throughout February we have explored the intersection between SFI's policy priorities and our commitment to anti-racism. We are committed to building our advocacy and our work within this context year-round.
We explored the intersection of our priorities and anti-racism across our social media platforms. We featured notable historical figures, discussed policy connections, and shared action items every week focused on voting rights, foreign policy, and domestic de-militarization. Recognizing the value and importance of these issues, we are sharing all of the links and resources here. We encourage you to click through, read these posts, and share those that resonate with you.
Intersection of Voting Rights and Anti-Racism
Intersection of Foreign Policy and Anti-Racism
Intersection of Domestic De-Militarization and Anti-Racism
Black History Month Roundtable
SFI is dedicated to ensuring all voices are heard, and we strive to grow our membership to be representative of all military families. As part of this effort, we are hosting a four-part series of Roundtable events this year to highlight underrepresented families within the military community.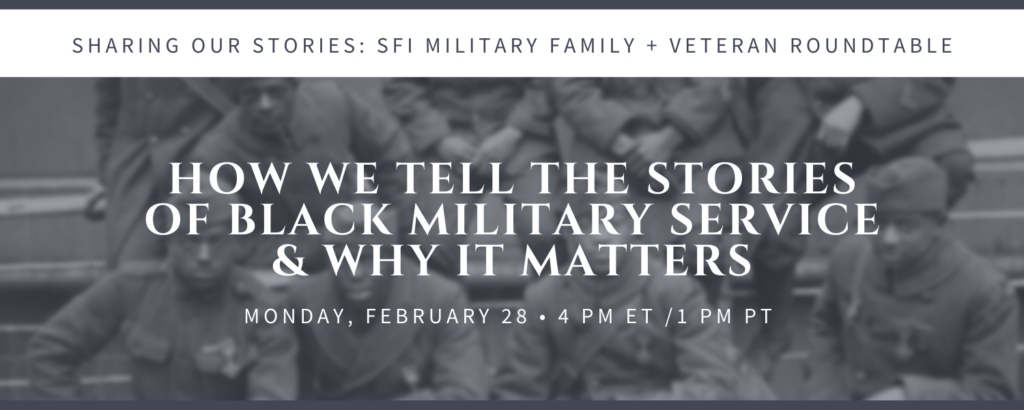 In honor of Black History Month, we are hosting How We Tell the Stories of Black Military Service and Why It Matters.
During this roundtable discussion for Black military veterans, partners, and family members, ​participants will connect, share their personal stories, and brainstorm collective action. The purpose of this event will be to dive into the intersections between two important social movements in the United States: combatting Black racism, and demilitarizing foreign & domestic policies.​

We have invited two amazing, highly-informative guest speakers with expertise in Black history, story-telling, and movement-building. These presentations will no doubt inform and inspire! Please RSVP to join this closed-door event.
Recommended Resources
Throughout the year, we reference many resources to learn about being anti-racist and more about Black history. We hope you find these resources as useful as we have.
Museums
Movies
Podcasts