Secure Families Initiative volunteer Marla Bautista's Editorial was published in the Miami Herald.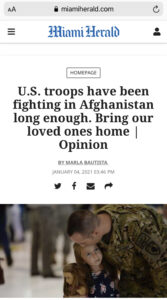 U.S. troops have been fighting in Afghanistan long enough. Bring our loved ones home | Opinion, Miami Herald, January 4, 2021.
"Leaders in Washington D.C., must not forget our U.S. troops still in Afghanistan. 
The war there and Operation Enduring Freedom have taken an immeasurable toll on military families like mine over the past 19 years. At their peak, families were separated for up to 15 months at a time. Children were born and raised, some who will never meet their fathers. Life was hell. It has been one of the most costly wars in American history — exceeding $9 billion and taking the lives of more than 2,000 U.S. troops and wounding more than 20,000.
According to recent peace negotiations, a complete withdrawal of U.S. troops is scheduled for May, assuming the agreements hold. For families like mine, this will be a bittersweet milestone."