The entirely virtual Civic Engagement Boot Camp by Secure Families Initiative is less than one month away! We are thrilled to share this tentative agenda. The two half days are jam-packed with informative presentations, motivating speakers, and networking tools to make change in your community.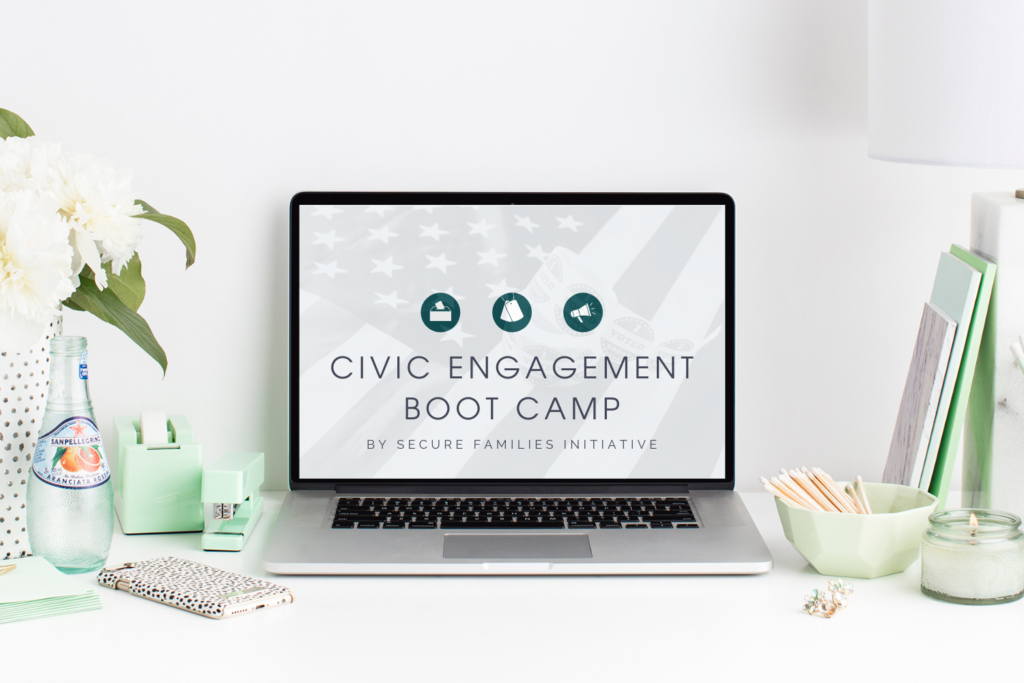 Civic Engagement Boot Camp Agenda
Here's an overview of what we have planned. Stay tuned for more details, speaker and presenter bios, and opportunities to network with fellow attendees.
May 20 (Eastern time zone)
12pm: Opening Ceremony

Guest speakers from Blue Star Families and National Military Family Association

12:30pm: Training: Voting Seminar
1:15pm: Training: Navigating Tricky Conversations
2pm: Featured Speakers: Military Family Leaders on How They Advocate

Guest speaker from Military Officers Association of America

2:30pm: Panel: Navigating Change Within the Department of Defense

Moderator: Mallory Sharpe
Panelists: LaPora Lindsey, Jessie Rudd, and Aleha Landry

3:30pm: Training: Politics "Do's and Don'ts" for Military Families
También a las 3:30pm: Seminario: Votación en español
4:15pm: Training: How to Organize Your Community
May 21 (Eastern time zone)
10am: Training: How to Tell Your Story
También a las 10am: Seminario: "Contar Su Historia" en español
10:45am: Featured Speakers: Military Family Leaders on How They Advocate

Guest speakers from Partners in Promise and Military Spouse JD Network

11:15am: Panel: Making Change at the Local, State, & Federal Level

Moderator: Lakesha Cole
Panelists" Kaprece James, Jennifer Dane, and Brooke Goldberg

12:15pm: Training: How to Engage with Your Elected Officials
1pm: Training: How to Write a Letter to the Editor / Editorial
1:45pm: Training: Translate Civic Engagement to Your Resume
2:30pm: Closing Ceremony
Register for the Civic Engagement Boot Camp
Attendance is limited! Register now to join us for this first-of-its-kind training boot camp for military partners, veterans, and family members.

Thanks to our partnership sponsor: