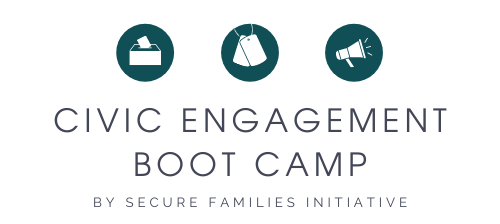 Secure Families Initiative is thrilled to present our first multi-day event on May 20 and 21, 2021. The Civic Engagement Boot Camp welcomes partners and family members of U.S. service members and veterans to come connect with each other and learn new ways to get involved in civic life.
Our event will include:
Skill-building seminars about voting and other ways to effectively advocate for your family
Presentations by inspiring community leaders about opportunities to plug-in with existing efforts
Opportunities to socialize and network with other military family members
If you've attended an SFI event before, you know we like to keep things real. Attendees can look forward to honest and inspiring conversations at this event. Whether you're passionate about supporting causes in your personal volunteer capacity, or you're looking to work professionally in this field, we've got the tools and connections you need to succeed.
Boot Camp seminars will be spread across two half days: May 20 (12 PM – 5 PM EDT) and May 21 (10 AM – 3 PM EDT). Check out the Civic Engagement Boot Camp agenda. We'll send a detailed schedule to registrants in a couple weeks so you can scout out which sessions to prioritize.
Attendance will be capped at 100. Register today to reserve your slot!
Thanks to our partnership sponsor:

Note: We want this event to be accessible to anyone looking to learn, regardless of their family's income bracket. That's why we're offering a sliding pay scale for tickets. If your budget is strapped right now, no worries — we've got discounted rates available. If you're in a position to cover the full cost, or even sponsor someone else, we appreciate your generosity.