It is primary season! Make sure YOU are ready to cast your ballot in these important elections by confirming you registration status with our verification tool.
Ready to check your voter registration status? Skip to the verification tool.
Why primary elections matter
The quick and most important reason that voting in primary elections matters is because VOTING MATTERS. Period. Every vote you cast strengthens our democracy and ensures that elections represent the will of the people. As military families, we give so much to this country and should not pass up any opportunity to influence our local and federal government by sitting out an election.
Here are four additional reasons voting in your primary election matters:
In some districts, the deciding election is the primary election. If you vote in a district that is "safe" for one political party, the primary election determines who will be on the ballot for the dominant party and more-than-likely win the general election.
In every district, picking a preferred candidate helps shape that party's platform. Two (or more) candidates of the same party running against each other for a spot in the general election is literally a voter's opportunity to indicate where they stand on the issues. This can help inform the larger political party on what matters to its voters.
Learn about all candidates. The primary election is a great opportunity to research and learn more about the down-ballot and local election candidates (like prosecutors and judges) that may not get as much attention during the general election season.
And, of course, every election is an opportunity to make your voice heard. Voting in the primary is an opportunity to participate in our democracy. It demonstrates you are engaged and invested. It builds a personal voting record for yourself, which signals to future office-seekers that your vote is one they have to earn.
Primary election deadlines
We share election primary deadlines in easy-to-share graphics on our Facebook page. Browse the album to review past or upcoming elections. Each graphic also includes important links to help you prepare to vote.
Don't see your state in the album yet? It means you have a little more time to prepare, but make sure you're following us on Facebook so you don't miss any of your state's election deadlines.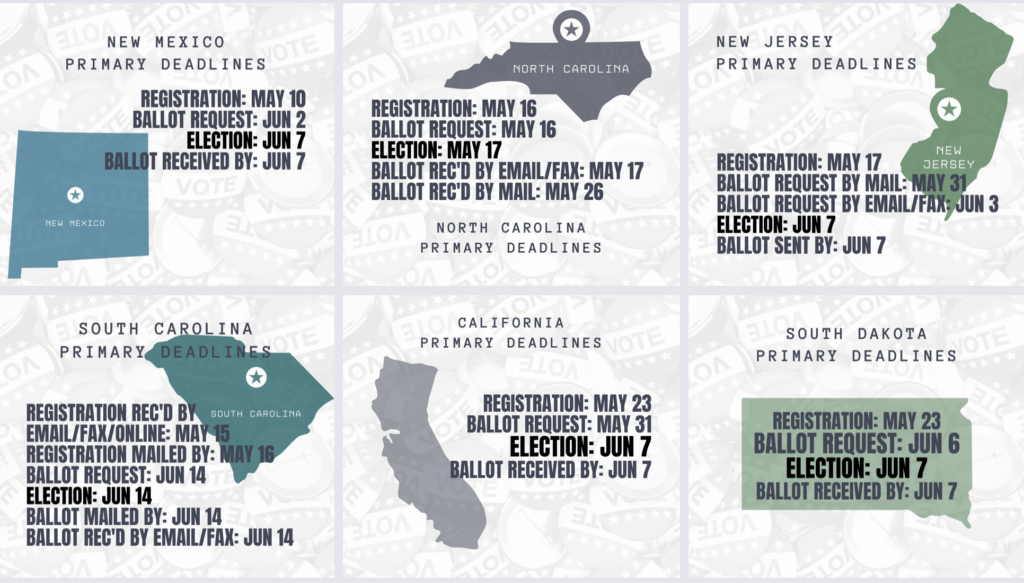 Verify your registration status