Together with partner organizations, Secure Families Initiative penned an OpEd in Stars and Stripes. "Honor Veterans: Repeal the Iraq War Authorization" is co-authored by SFI Executive Director collaborated with Naveed Shah, the Political Director at Common Defense and an Iraq War veteran, and Luis Cardona, the Federal Affairs Liaison at Concerned Veterans for America.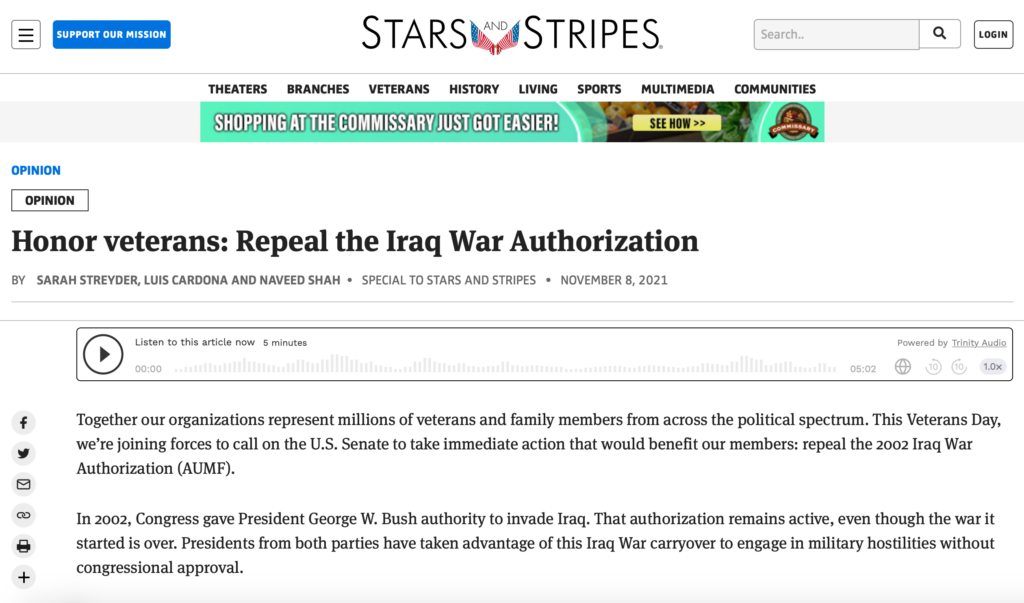 "Together our organizations represent millions of veterans and family members from across the political spectrum. This Veterans Day, we're joining forces to call on the U.S. Senate to take immediate action that would benefit our members: repeal the 2002 Iraq War Authorization (AUMF). 
In 2002, Congress gave President George W. Bush authority to invade Iraq. That authorization remains active, even though the war it started is over. Presidents from both parties have taken advantage of this Iraq War carryover to engage in military hostilities without congressional approval.
There are three reasons the Senate should vote to repeal this outdated law: it's good for veterans, it's good for the country, and it's achievable."